Additional information

Bumper-style allows you to see the Samsung Galaxy S8 Plus' good looks
The bumper style of this Official Samsung Galaxy S8 Plus case means that you are still able to see the majority of your gorgeous new device at all times. With its stunning hybrid design, it is the perfect blend of a bumper and a full enclosure case. The sleek metalic bumper runs neatly around your S8 Plus' edges to provide excellent side on protection as well as a raised lip which guards against damage when placed face down on a flat surface. The back of your new smartphone is also protected, thanks to the clear cover cases thin polycarbonate back cover. This keep your S8 Plus protected and highlights its splendid fresh look.
Keeps your phone slim and light
Thanks to the bumper design, your Galaxy S8 Plus won't incur any unnecessary bulk - helping to keep your S8 Plus as slim and light as it was originally designed to be.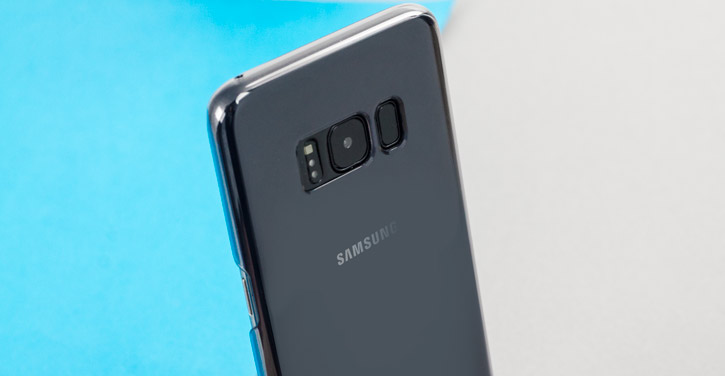 Easily access all ports, controls & connectors
The case also features cut-outs for the ports and features of the Samsung Galaxy S8 Plus, including the dock connector and camera.
Twin pack offers twice the protection
With this pack of two screen protectors, enjoy peace of mind for even longer. In the extremely unlikely event that one of your screen protectors becomes damaged or scratched, or you replace your phone with another Galaxy S8 Plus - no problem. This twin pack of screen protectors really does ensure the safety and integrity of your display beyond the lifetime of your device.
Protects your smartphone screen from scuffs and scratches
Manufactured by Samsung, these specialised screen protectors for the Samsung Galaxy S8 Plus help to keep your phone in top condition by protecting the display from scuffs and scratch damage.
The tough film layer creates a durable and hard-wearing barrier that will resist the rigours of everyday use.
Easy to apply and leaves no sticky residue when removed
The Samsung screen protector is incredibly easy to apply, especially as it is custom cut for each specific handset. Simply give the screen a thorough wipe, line up the screen protector with your phone and gently place down from one side to the other - using the application card to smooth out any bubbles. After application, you will notice that the screen protector is virtually invisible.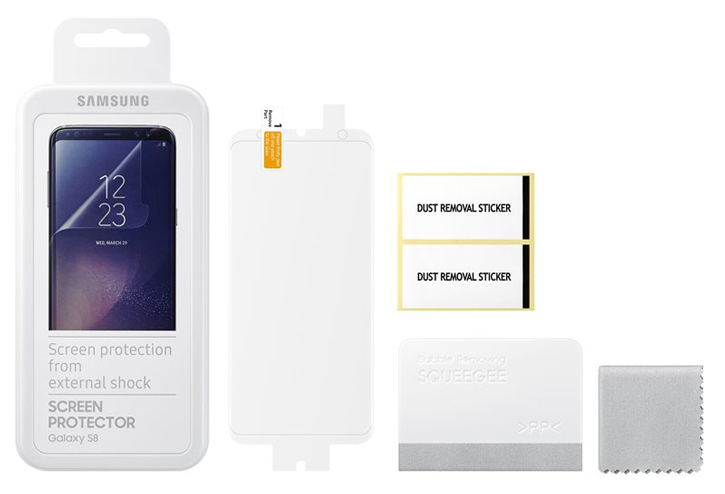 Provides invisible protection while maintaining screen clarity and sensitivity
While it's important to protect your screen, it's also vital that the screen protector doesn't hinder your smartphone use by clouding or decreasing the sensitivity of the touchscreen. Samsung screen protectors are specially designed to provide optimal clarity when used in conjunction with your Samsung handset, while also thin enough to keep your touchscreen in perfect working order.
Once applied, you won't even notice the Samsung screen protector is there!
Official Samsung accessories made for the Galaxy S8 Plus
These are official Samsung products, so is made to the highest standards with the best quality materials. They are designed specifically for use with the Samsung Galaxy S8 Plus, so offers a perfect fit and does not impede the use of any of the functions such as the power and volume buttons, headphone and charging ports, or front and rear cameras.