Additional information
With so many electronic devices around the home or office, the need to find a free USB or mains port to charge your device can often lead to frustration. End the torment and enjoy the power and versatility of the Macally UniStrip II UK 4-Port USB Wall Charger for smartphones, tablets and other USB and mains powered devices.
Simultaneously charge up to five devices
With the powerful Macally UniStrip II you can simultaneously charge your USB and mains powered devices fully from a single UK mains charging socket. With four USB charging ports and one UK mains outlet available you can charge up to 5 devices direct from the UniStrip II.
Now your whole family can charge their devices at the same time - ending the squabbles and fully charging your cherished devices.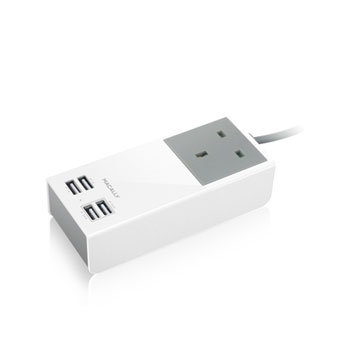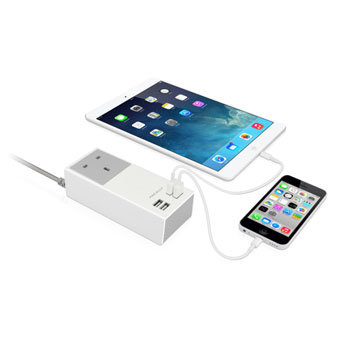 Four USB ports from one single UK mains socket
Usually to charge multiple devices you may have needed multiple mains sockets. This is not always practical and is certainly not tidy, however this is not a concern for the Macally UniStrip II. With just a single UK mains socket, you can create 4 USB charging ports for your devices. Not only that but you don't lose your mains port either as the UniStrip II has an extra UK mains socket built into it.
Super fast USB charging ports
The Macally UniStrip II UK 4-Port USB Wall Charger offers a total of 6.8A output via it's USB ports, 2 x 2.4A and 2 x 1.0A.
The 2.4A ports allows for super fast charging speeds, to make sure you're always ready-to-go without delay. Suitable for even the most power hungry smartphones, tablets and other USB powered devices.
AC 100-240V input voltage ideal for international travel
With an input voltage of 100-240V, you can take your USB mains charger with you on your travels around the world and ensure your phone is ready to take holiday snaps and your tablet ready to view them.
Technical specifications:
Dimensions: 137 x 58 x 38 mm
Weight: 260g
Cable length: 180 cm